Radiation Protection Barrier (SK-16-7)
It is to protect radiation worker from radiation occurring at radiation irradiation.

This model can be used when visibility is required because of using lead glass.
The use of lead glass does not block sight when partition is used during radiation related treatment.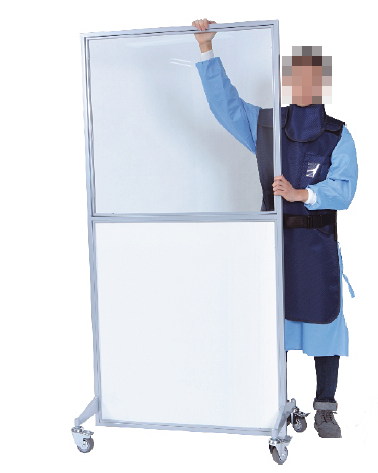 Entire
:
180(L) x 90(W) cm
Lead Glass
:
80(L) x 90(W) cm
Lead Equivalent-Glass

:

1.76 mmpb
Lead Glass & Part

:

use to protect from radiation
Basic Frame
: the role of support
Fixed Wheels
: Wheels that fix partition
How to use
A. Precautions before use
1) It should be used by a specialist who knows exactly how to use it.
2) Before use, check if there is considerable deformation, scratches and breakage in appearance.
B. How to use
1) Fix the product at desired location.
C. How to keep and manage after use
1) Store at a safe place with wheels fixed, so lead plate or lead glass won't be broken.
Precautions when using
A. Cautions are necessary when the product is moved because this product is large and heavy.
B. Treat cautiously not to break lead glass.
C. Do not lean against the partition or do not push it after installation.