Lead Mask- Panorama Shield (400PSM)
These are to protect eyes from ionizing radiation.
Eyes are very sensitive to radiation, and the exposure to radiation can cause glaucoma.
These are the shield to minimize radiation exposure of radiation workers' eyes.
SK-400PSM uses the lead acrylic shield connected to the dual-controlling type size adjuster.
This model provides additional X-ray protection that wraps the front head.
It uses the adjustable size adjuster, which protects various positions from radiation.
The size can be adjusted according to wearer's head size.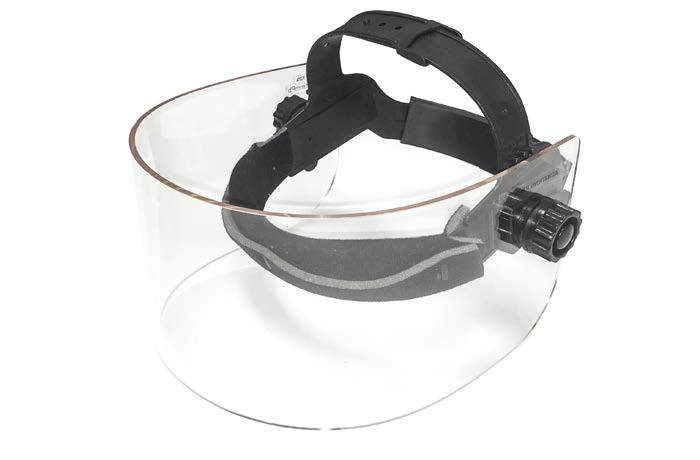 Lead Equiv (Front):
0.10 mmpb (+/-0.05) Lead Acrylic
Frame Material
: Nylon/Acrylic
How to Use
A. Precautions before use
1) Make sure the product is not damaged. If damaged, the product should be discarded and substituted.
2) Choose a proper product for your purpose.
3) Use before fully understanding the method of wearing.
B. How to use
1) Check the method and structure and wear accurately without rolling down.
C. How to keep and manage after use
1) Avoid low humidity and acid/alkali substances.
2) Clean Lead Acrylic Face Shield with soft microfiber cloth. Use of Glutaraldehyde is permitted but do not use sodium hydroxide nor hydrochloric acid products.
3) Inspect glasses regularly. If damages on glasses occur, repair or replace them immediately.
Precautions when using
A. It should be used by a specialist who knows exactly how to use it.
B. Before use, check if there is considerable deformation, scratches and breakage in appearance.
C. Make sure glasses don't slip down or aren't taken off.
D.These radio-protector shields are not for protection from shock, laser or infectious material.