Radiation Shield Goggles (SK-RE)
Cocoon's Flexfit fitover is a versatile, high quality nylon frame. Featuring Flexfit technology, the temples can be benched (adjusted) easily for a secure, comfortable fit. The large sized model is ideal for fitting over standard sized prescription eyewear with square or rounded lenses. Blacked out side shields provide a streamlined look as well as 0.50mm lead equivalent protection.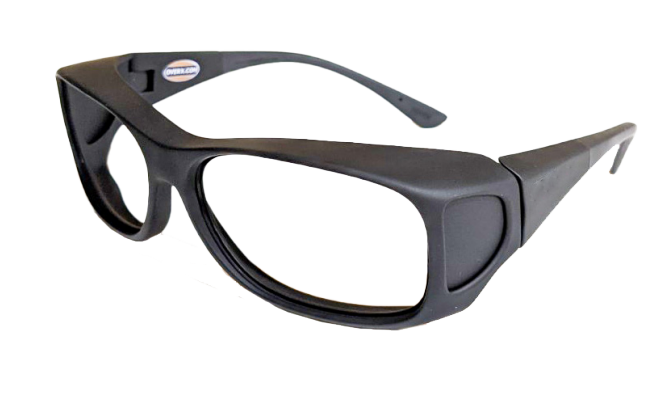 Lead Equiv (Front):
0.75 mmpb (+/-0.05) Lead Glass
Lead Equiv (Side)
:

0.75 mm (+/-0.05) Lead Glass
How to Use
A. Precautions before use
1) Make sure the product is not damaged. If damaged, the product should be discarded and substituted.
2) Choose a proper product for your purpose.
3) Use before fully understanding the method of wearing.
B. How to use
1) Check the method and structure and wear accurately without rolling down.
C. How to keep and manage after use
1) Avoid low humidity and acid/alkali substances.
2) To clean the product, soak it in alcohol for 10 minutes and rinse thoroughly. Cleaning with solvent can cause damage of frame.
3) Inspect glasses regularly. If damages on glasses occur, repair or replace them immediately.
Precautions when using
A. It should be used by a specialist who knows exactly how to use it.
B. Before use, check if there is considerable deformation, scratches and breakage in appearance.
C. Make sure glasses don't slip down or aren't taken off.
D. These radio-protector glasses are not for protection from shock, laser or infectious material.